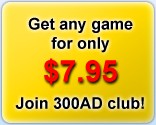 Support



Contact us using the form bellow if you have any question or problem.
We usually answer to all supports in a few hours.

IMPORTANT announcement for customers with a YAHOO email account: Yahoo moves most of our emails to a spam folder. If you use a Yahoo account and you have not received our email with links or a registration key, please check your spam folder, the email should be there.






If you fail to reach us via email, you can use one of these:



AIM contact:
rigsupport

ICQ contact:
381748007

Jabber contact:
RIGsupport

MSN contact:
team[at]rakeingrass.com

Yahoo contact:

rakeingrass


Note: Please use ICQ or MSN only in case the form above fails. Also limit your contact on solving problems that need our assistence. We are extremely busy and will not answer off topic messages. Thanks for your understanding.

Games - Company - Support - Partners - Contact us

Copyright (C) 2000-2010 Rake In Grass & 300AD, all rights reserved.