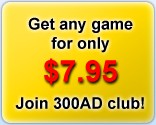 Back to game list



Archibald's Adventures



Download for Mac OS X
Order for

$14.95

$9.95 for Mac OS X

Help Archie to overcome all of the pitfalls of the Dr. Klumpfus mansion in this funny action puzzle game. Test your skills and wit in more than 100 uncanny levels!

Archie and crazy Professor Klumpfus are stuck in the professor's mansion. The latest experiment of the goofy scientist went all wrong, and weird lifeforms escaped from their containment. Now a paranoid central computer locked both heroes up!
Game features:
go through 114 levels in this mind blowing action puzzle platform game
experience innovative gameplay with many unique features of the hero: transportation of objects, riding on walls and ceilings, flying with a jet armchair and more
use your wit and fast reaction to avoid nasty dangers of the mad scientist's mansion
use the professor's device pod to climb the walls or his artificial intelligence matter to solve riddles
encounter lots of weird and funny lifeforms running loose in the levels!
enjoy the great playability with a mouse or a keyboard
Minimum requirements:
PC Windows or Mac OS X 10.3+
1GHz, 128MB RAM
OpenGL