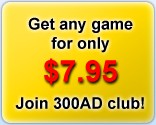 Back to game list



KingMania



Download for Mac OS X
Order for

$19.95

$9.95 for Mac OS X

Play a quick action strategy game, different from any you have seen before! Kingmania is a fast and simple, yet challenging, game that will test your ability to make quick tactical decisions.

You control different buildings, using their power and the power of hordes of your lieges to defeat your opponents. And if you like online challenges, you can play with your friends in multiplayer mode!

Only the smartest and quickest leader can win the battle!

Visit KingMania Official Site for more info!


Game features:
30 levels with unique battlefields
new 11 original levels in Northern Kingdom addon
more than 30 structure upgrades
5 mass destruction spells
5 opponents with different strategies - find their weak spots!
original music tracks
and more!
Minimum requirements:
PC Windows or Mac OS X 10.3+
1.2GHz, 256MB RAM
OpenGL