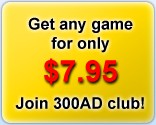 Save fabulous dwarves from the evil wizard's tower in a new arcade game.

The cruel wizard used all his power and imprisoned all of the dwarves from a wonderfull forest called Phantasia, in his strange tower in the abandoned mountains. You are the only one who can rescue all of the dwarves from the wizard's tower.
Game features:
many adventures in 30 unique levels
use different bonuses to save the dwarves
collect coins and raise your score
arcanoid style action
colorful hand drawn graphics with monstrous effects and jokes
original music
and much more...
Minimum requirements:
PC Windows or Mac OS X 10.3+
1GHz, 128MB RAM
OpenGL