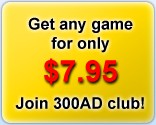 Rock'n'Roll is not dead! Real good times are back rocking and rolling in the puzzle game Rock'n'Roll 2004!

Yes, you were right - the King has never died. Now he rocks as ever. Get your boots ready to dance through 60 levels of pure fifties and sixties. Grease up your hair and set your moves to collect and connect the classical rock'n'roll proprieties such as musical instruments, cocktails and many more.

There a loads of things to make your way a lot easier, there are loads of thing that will make it a way more difficult than it seems at the first glimpse. It's up to you - you might be a rebel without a clue, you might be a cool daddy, hot chick or a rock'n'roll babe - which way you'll choose but still you have to prove you've got the brains! Playing this game will take you virtually back to sixties when rock'n'roll was the king!
Game features:
60 original levels
unique puzzles and logic riddles
rock'n'roll art
Minimum requirements:
PC Windows or Mac OS X 10.2+
1GHz, 64MB RAM