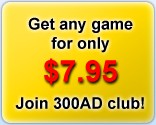 Shopping cart
You have no item in your cart.
Your information is secure, because the payment is mediated by BMT Micro secure service.
See the BMT Micro page for more info.



Games - Company - Support - Partners - Contact us

Copyright (C) 2000-2010 Rake In Grass & 300AD, all rights reserved.