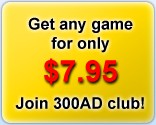 Support



Contact us using the form bellow if you have any question or problem.
We usually answer to all supports in a few hours.

IMPORTANT announcement for customers with a YAHOO email account: Yahoo moves most of our emails to a spam folder. If you use a Yahoo account and you have not received our email with links or a registration key, please check your spam folder, the email should be there.





Games - Company - Support - Partners - Contact us

Copyright (C) 2000-2010 Rake In Grass & 300AD, all rights reserved.