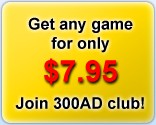 Back to game list



Be a King



Download for Mac OS X
Order for

$19.95

$14.95 for Mac OS X

Be a King: Lost Lands
28th March: We released a new version (1.2) of Be a King - Lost Lands! This update includes one new map with 12 levels and two new buildings.This update is free for Be a King owners!


Try to rule your land as the prince. Build and maintain villages, towns and even big cities! Defend your minions against hordes of monsters and bandits. Be a just and determined ruler, and realize the dream of becoming a brave king who leads his people to a better future!

"Be a King" is a fantasy strategy game. It offers fast and entertaining game play for all players. You - as a ruler of a medieval kingdom - must build towns and cities, defend them against raiders and perform various objectives. Enjoy the medieval atmosphere in lovely fantasy graphics!

Game features:
Play 25 + 12 original levels
Use 7 + 2 different types of buildings to grow your cities
Upgrade the buildings - each building has 3 variants
Defend your minions against hordes of monsters and bandits
Fulfill different types of objectives
Train heroes and complete complex adventurous quests
Enjoy the orchestral soundtrack
And much more…
Minimum requirements:
PC Windows or Mac OS X 10.3+
1GHz, 128MB RAM
OpenGL