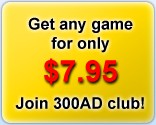 Search long-lost treasures in pitch black caves, pyramids and dark tombs of ancient temples in this wonderfull puzzle game! Huge gemstones were sheltered from the sunshine for eons of time waiting for those who are brave. You as an intrepid tomb seeker must resolve puzzles of pharaohs, aztecs, fight kings and show courage in many adventures to get them all.

Crystal Cave is a supreme family-fun puzzle game. Collect all crystals from ancient lost tombs. Challenge your brain!



Need help? Visit Crystal Cave hint page!
Game features:
more than 100 levels sorted by the difficulty
three graphic scenarios
lots of logical riddles as well as action elements
use boulders, different types of rocks and teleports to get gems
great fun for the whole family!
Minimum requirements:
PC Windows or Mac OS X 10.2+
32MB RAM