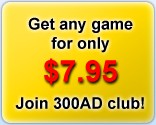 A marvelous piece of classic arcade symphony of colors, action and sophisticated art of destruction! Get your boots ready and smell the gasoline being refueled into your spaceship. Get back in history and say hello to good old-fashioned villains who got new power-toys to tear down the world as we know it.

Enjoy yourself in almost-insane-action of saving the universe from the deadly threat of twelve masters of destruction in the quest of 21 levels. Stand as one-against-many armed with fifty different pieces of classy armament fitted tightly to a swish body of only yours spaceship.

Get your guns loaded and experience the ecstasy of pure arcade action! Jets'n'Guns are far beyond the average of the genre. The game as Jets'n'Guns is more than an average action. It is a quest for the liberation of the universe!
Game features:
20 levels full of action
more then 200 enemies
upgrade your ship with almost 20 devices
tens of weapons
combination of weapons give hundreds of possibilities how to equip your ship!
superior graphic and particle effects enhancing the destruction!
more than one hour of breathtaking original soundtrack
Minimum requirements:
PC Windows or Mac OS X 10.2+
1GHz, 64MB RAM