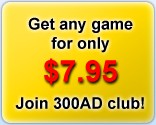 Back to game list



Larva Mortus



Download for Mac OS X
Order for

$19.95

$9.95 for Mac OS X

At the end of 19th Century, dark forces shade the world once again. A brave agent, experienced in exorcism and combat, comes to face the oncoming evil, and fight loathsome supernatural monsters and horrific spawns of black magic. It's your quest, in a role of a hard boiled combat, to face a dark warlock of the ancient times and stop his plan to capture powerful artifact of black magic.

Larva Mortus offers fast and entertaining monster-hunting game play. A horrific atmosphere goes hand in hand with furious action packed splatter fest. Everything accompanied by creepy, first class soundtrack!
Game features:
30 frightening supernatural monsters to destroy. Vampires, werewolves, the undead, and more!
a dark and horrifying atmosphere with mysterious storyline quests!
a solid arsenal - varying from classic six shooters and shotguns to the fancy "Dynamo Gun"
randomly generated missions for high replay value
main character development through a set of RPG-like features
many environments - from spooky manors and catacombs to dark forests and lonely deserts
an awesome dark orchestral music score
Minimum requirements:
PC Windows or Mac OS X 10.3+
1GHz, 128MB RAM
OpenGL