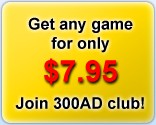 300AD Game Club
Why to join the 300AD game club?
Automatically obtain a great discount - current discount:


One game for only $7.95!

Get bonuses, be informed about new games in our newsletter
Get discounts and extra prices
The membership is free
You can sign off from Gameclub anytime you want
Your e-mail address or any other information about you WILL NOT be provided to any third parties
Joing the 300AD game club:
Games - Company - Support - Partners - Contact us

Copyright (C) 2000-2010 Rake In Grass & 300AD, all rights reserved.