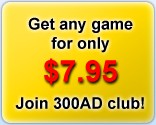 Back to game list



Be a King: Golden Empire



Download for Mac OS X
Order for

$19.95

$14.95 for Mac OS X

Try to rule your land as the real king! Rebuild cities to their former glory, feed the poor and protect them from raids by bandits. Rule with your strong hand and raise a powerful empire.

"Be a King: Golden Empire" is a fantasy strategy game. It offers fast and entertaining game play. You - as a ruler of a medieval kingdom - must build towns and cities, defend them against raiders and perform various objectives. Enjoy the medieval atmosphere in lovely fantasy graphics!

Game features:
Play 35+ original levels
Use 12 different types of buildings to grow your cities
Upgrade the buildings - each building has 3 variants
Defend your lieges against hordes of monsters and bandits
Fulfill different types of objectives
Train heroes and complete a lot of adventurous quests
Enjoy original music
Be a king!
Minimum requirements:
PC Windows or Mac OS X 10.3+
1.2GHz, 256MB RAM
OpenGL