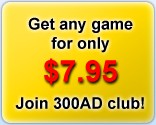 Back to game list



Archmage



Download for Mac OS X
Order for

$19.95

$9.95 for Mac OS X

Embark on an adventurous journey to rescue a small lake kingdom from evil. The Great Mages who protect the peaceful Lake Shire have grown weak and an evil Demon overlord and his hordes of monsters have emerged from the Underworld and invaded the Shire. They have destroyed and burnt everything in their path, but a young Mage and his sister Witch have summoned a mighty dragon and a mystical unicorn to take a stand against them.

ArchMage is an action game set in a fantasy world where you fight, as either a young mage with his mighty dragon or as a young witch with her mystical unicorn, and destroy hordes of evil monsters to rescue the Lake Shire. In 35 action levels, you will fight against giant Orcs, monstrous insects, huge Cyclops, gargoyles, dragons and a host of other diabolical beasts before eventually facing the Demon King himself.
Game features:
tens of different spells and bonuses
35 levels full of action
20 monsters and almighty monster champions
two characters - mage on a dragon, witch on a unicorn
creating spells from runes
original game music and sound
Minimum requirements:
PC Windows or Mac OS X 10.3+
1GHz, 128MB RAM
OpenGL