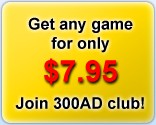 300AD GAME SHOP



Have fun with the FULL RETAIL versions of our games in minutes!
We guarantee full refund within 30 days for any reason!

How to order:

Select any game (or games) from the list below by clicking its checkbox
Click on an "ORDER" button and you will be redirected to an internationally, secure, order service BMT Micro, where you will be able to finish the order
After finishing the order, you will receive an e-mail confirming your order which will include the direct link to access your game
Games - Company - Support - Partners - Contact us

Copyright (C) 2000-2010 Rake In Grass & 300AD, all rights reserved.